---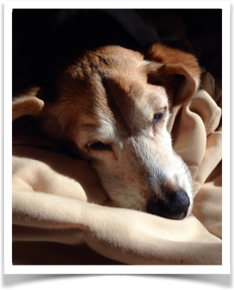 Misty the Weather Beagle, a devoted companion and cherished family member who loved tracking bunnies, adored a nap on her sunbeam-lit tuffet, lived for belly rubs, worshipped her boys and, like Miss Daisy, was in her glory riding in the back seat of a car, died peacefully on Jan. 31 in Naperville.
She was just shy of 15 (a centenarian in hound years, at 103), and was comforted by her loving and grieving adopted parents as she was gently helped into eternal sleep.
With the end, her ever-worsening dementia was over. Her incontinence that made her as frustrated as it did her family, done. Her slow transformation into skin and bones the past few months, over. Her anxiety attacks, blessedly vanquished. The pain that we had come to realize she was hiding so well, gone.
At rest, at peace, at ease, at last.
Misty was born to parents of solid AKC breeding in the last Spring of the 20th Century in a rustic barn on a farm north of Rockford, Ill, almost at the Wisconsin border. Three of her future family members visited her in Roscoe shortly after birth, fell in love, and returned after she was whelped to bring her home to Naperville. One of the visitors stepped on a rake and was boinked in the back of the head Three Stooges style during the second visit, proving pretty demonstrably that farm living wasn't in his future. Nor was it in Misty's, as a suburban girl she soon became.
She missed her rural canine family terribly and cried inconsolably the first few nights. Rose spent hours with her during the darkness, curled up with her on the kitchen floor to console her. Her boys quickly became her litter mates and Scott, her alpha, and life soon was good and comforting for Misty, her cozy hutch with her mother and siblings in the barn a fading memory. She replaced the hutch with the tiny bottom shelf of a narrow bookcase in the kitchen, and with her pen, which would be her bed and comfort zone for 15 years. Happiness to her, like Linus, was a blankie fresh from the dryer, unfurled in her crate, with a treat tossed in for good measure.
For AKC purposes, she soon was officially named "Artemis, Goddess of the Hunt." That proved absurdly prescient, for her genes were remarkably programmed for hunting, in total and complete control by her amazing and ever-ready nose. You think Rudolph was all about his nose? He had nothing on Miss Artemis.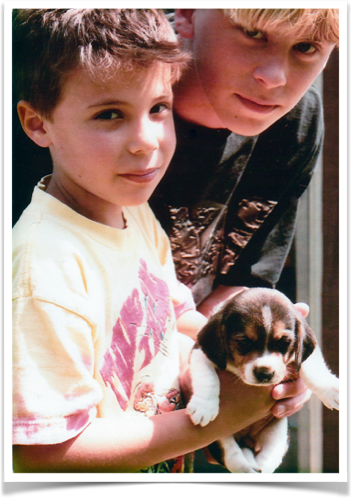 As Goddess of the Hunt, hunt she did. Her favorite pursuit: Bunnies. For most of her life, she was obsessed with catching the scent of rabbits that had hopped through the yard and, as her genes commanded her to do, she'd give a distinctive yelping cry as she followed the scent en route to try to find the burrow. Her perfectly white-tipped tail wagged high to give the human hunter the signal, should there be tall grass hiding her, of where she was heading. In 15 years, she never actually caught a bunny and we would like to think she would have no idea what do with one had she been successful.
Misty could also smell a micron from a toast crumb at 100 paces and would obsess with finding it and its sibling microns and licking them into submission on the kitchen floor. For years, she'd come flying when she heard the vegetable peeler come out of the kitchen drawer; she knew that carrots were about to be peeled and chances were, Scott would "accidentally" drop a few pieces.
She was known by many names, from The Weather Beagle, Misty Poo and Miss Pup to Her Highness. And other, less printable, names as she grew crabby and more stubborn -- and leaky -- in her dotage.
All of her life, she typically would respond to neither her name nor nicknames, content in pretending her name was never called and going about the business at hand — beagle business that usually involved her nose in some way.
Her boys were among her very strongest passions. She was devoted to John and Corey from the moment they first met on the farm and they, most certainly, were devoted to her.
She was a perfectionist, turning the annual Taking of the Christmas Card Photo session with her boys into a drawn-out session as she insisted on finding the perfect pose.
She was mischievous, as well. The den carpeting still bears stained witness to the day she found liptick in Rose's purse and ate it, using her soon-to-be-crimson paws. She also loved gum and taught herself to open all the zippers on Corey's backpack to get inside and find some. One day, she was discovered completely inside the backpack. The gum and foil wrappers' re-entry into the world was always a sparkly experience; not as sparkly, but always dramatic, was the re-arrival of the greasy paper towels, knotted pork roast twine and other delights she'd pilfer.
Misty developed a passion for weather about 10 years ago, installing a digital weather monitor in the back yard and building weather.mistybeagle.com, a website to display the data it collected. She eventually built her own page on Facebook and at one point regularly tweeted.
She was an inspiration to many of Scott's graduate journalism students at Northwestern's Medill School, who learned early on in their classes with Scott about Misty's digital accomplishments and web production and data prowess.
She had a passion for photography, videography and multimedia production, founding MistyPoo Studios and producing scores of family videos and photo galleries over the years. One of her most recent features was a heartfelt video retrospective on her first days at her new home in Naperville.
She was also Chairman Emeritus of MtWB Enterprises, a content consultancy.
Burial will be private after the thaw from one of the coldest and snowiest winters in northern Illinois history.
The season's abundance of snow was fitting; Misty always adored the snow, regularly burying her head deep in a snow bank to try and find bunny scents below. In the past few months, she became enamored of her own paw prints, sniffing each one left in the snow only hours before, seemingly amazed to discover, one at a time, that they were . . . hers.
In lieu of flowers, donations may be made to your local animal shelter. And if you have a pet, hug it in Misty's honor and treasure the time you've had and the time you have left together.
— SB Anderson